These are the giveaways which I think are worth mentioning today. All are coincidentally book giveaways mainly because I love to read! (There's a 50 per cent chance I would blog about a book giveaway as compared to cosmetics and such.) Anyway, I only blog about giveaways which are open internationally, as I think they are fair enough and worth mentioning. Remember, a crucial point to note in these giveaways is that you must always remember to join the host of the giveaway's Google Friend Connect community. Enjoy.
Evie Bookish is having a 200 Followers giveaway! Oh my god, Evie is being really generous in this giveaway and I really hope I could win Modern Faerie Tales by Holly Black! Anyway, you have FOUR book packs to choose from and this giveaway is international. Honestly, I count myself lucky to have stumbled upon Evie Bookish. Ends on 16 May 2011.
Gripped Into Books reached 300 followers in five months, and Mia is thrilled enough to host a giveaway for her followers. I stumbled upon this site yesterday night, and immediately made a draft to post this today morning. There are six books to choose from which I haven't read yet, so I personally thought it was a pretty amazing giveaway for myself. Deadline is on 25 May 2011.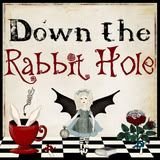 Down The Rabbit Hole is having a 1000 followers giveaway with 14 books to choose from! It's pretty self explanatory. Just proceed to the website by clicking the banner above, fill in the form, and wait to see if you win.
For What It's Worth is also holding a 1000 followers giveaway with any book worth 10 USD at The Book Depository or Amazon. It's super awesome, there'll be 10 winners and this giveaway is open internationally. Deadline is on 31 May 2011.
Here is a little bit of an Extra:
Did you know that The Book Depository provides free eBooks for everyone! You can download the pdf files, read them on mobile, eReaders, or PC, all at your own leisure. Head over to look at their eBooks on the website and decide if you want to buy them, or not! :D